Being a Whole Woman
What does being a whole woman mean? Some would say that nurturing and being in touch with the feminine aspects of the self is living life holistically, but does that make you whole? To look at yourself and see yourself as you are with all of your frustrations, angers, desires, hopes and fears is the first step to loving the self, because inside of you there are two elements that live side-by-side. These are the male and female principles. You can only live as a whole individual when you have united both these inner forces. We suffer and cause suffering to others when these two elements are not at peace.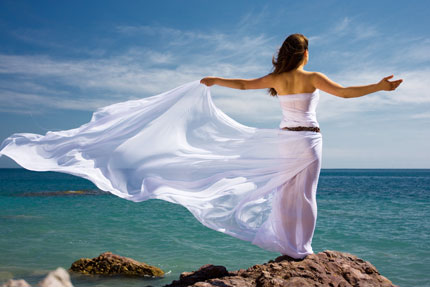 As a woman how can you do this? The first point is to understand the workings of your body and the monthly cycle. Within each cycle your body swings from an alkaline (female) state to an acid (male) state. The female is more erratic and emotional, reaching its highest peak just before the menstrual flow. The male is more directive and mental, which hits its peak at the point of ovulation. Your daily temperature throughout the month mirrors this movement and your state of being is reflected in each moment through your mental and emotional state and your food cravings. Craving acidic foods such as chocolate just before your menses often signifies that the body has become predominantly female and the same for craving alkaline foods such as a sudden need for a certain fruit, etc, is showing you how your body has become too acidic. These two forces of the magnetic movement within the atoms of every cell is completely natural, but they also govern your mental and emotional state.
If you find that you are predominantly female, i.e. emotional, victimised, self-doubting, dependent, image conscious, judgmental, lack of energy, etc, then you will have suppressed the male within you. The male element is what provides you with the energy to act, so it gives you the ideas, the energy to follow through and your life direction. The male is alert and it protects you and connects you with intelligence. If on the other hand, you are power driven, critical, cynical, angry, ambitious, unemotional, etc, then your male has the upper hand and your inner female goes unheard, so you no longer listen to your gut impulses. It is the female that gives you your connection to Nature and she shows your male how to live on this planet in harmony with everything else.
If you live solely in either your male or your female element for a long period of time you will begin to feel exhausted and illness is often the outcome of that trying to survive. Male related illnesses often show in the organs of the liver, large intestines, colon, gall bladder, right ovary and the lungs. Female related illnesses can occur in the small intestines, stomach, spleen, pancreas, left ovary and kidneys. Sometimes the body will throw you into a crisis to break the patterns and you may find yourself challenged emotionally and physically. The female will need to stand up and be heard and the male will have to feel compassion. Either way, the imbalance will need to be corrected in order for them to work as one – to merge.
If your childhood was difficult or abusive, you will automatically be living in one side of your being. The same applies if your relationship with your partner is out of balance. If you get really honest with yourself and look at your relationships, past and present, you will see exactly where you have been either more male or more female. You can also see the other persons issue as well, so blame goes out of the window, as you attracted this person to you because you needed to heal your own imbalance. Every relationship with another human being is teaching us about our self. The key is to see it, understand it and then take the right action to heal it.
To live a balanced life you have to release the suppressed part of your being, and for your true potential to emerge, your inner male and female need to be living in harmony as one. All of your beliefs, your past hurts and your conditioning have separated them and this will have to be healed, giving you the way forward to live life in moderation. The male has to listen to the female and act and the female has to be clear about her needs. This is what it means to be a whole woman, that which has mastered her inner female and her male.
The female is likened to the piano, perfectly tuned to the seven notes of life and the male is the composer, playing her notes with Divine inspiration, and drawing out of her exquisite music that can be heard in all the spiritual spheres of existence. They were created to be one. It was the human mind with all of its desires and envy that separated them. Is it possible to be whole again?
This is an ONLINE course and will consist of 4 Webinars and a secret fb group support page run over a 6 week period. All webinars will be recorded for those who cannot be there live.
1. Intro
Tuesday 5th July 11am:
1 hour Webinar meeting
1 months charts for logging pH, diet and cravings
Key focus points on being female
Questions & Answers
28 days monitoring with questions and weekly tasks
2. Part One
21 days from the Intro: Tuesday 26th July 11am:
1.5 hour webinar meeting
The emotional structure of being female relationship with your mother and being a mother
The inner workings of the male and the female
How you are unconsciously controlling your daily life through the play out between the inner male and the female
The charts and the monthly cycle: the relationship between the inner female/ body alkaline and the inner male/body acid – how menopause is the spiritual cleanser.
Homework:
The acid and the alkaline diet: includes charts
Illness, the menstrual cycle and menopause
How to immediately alkalise the body to bring it into balance.
3. Part Two
14 days from Part One: Tuesday 9th August
1.5 hour webinar meeting
The balloon and the sheep
Your reactional life
Seeing the full picture
A balanced YOU.
Homework:
Your life plan as a balanced woman
Bringing your family into balance
Dealing with the changes that will result from being who you really are.
4. Closure
7 days from Part Two: Tuesday 16th August
1 hour webinar meeting
Final questions & answers
Investment:
The cost of the workshop is $499. A deposit of $200 is required at the time of booking, as places are limited. Full payment needs to be received before Tuesday 5th July. Instructions on how to get access into the webinar and also an invite to the Whole Woman page on Facebook will be sent upon confirmation of booking.
Time Commitment:
This is not just a workshop, it is an actual journey into you, so you will need to be committed over the six weeks to self-discovery, sharing, filling out your charts, asking questions and also to the webinar meetings. Every step is important. To make it easier we will also record the webinars so that you can play them back and take from them what is relevant to you.
How to Book: Please click here to book: https://www.katiewebber.com/products-page/all/whole-woman-online-course/
Please contact me if you have any questions on 0407 167 723 or us e the contact form.